Bangles – The Most Commonly Used Hand Jewellery
Bangles – The Most Commonly Used Hand Jewellery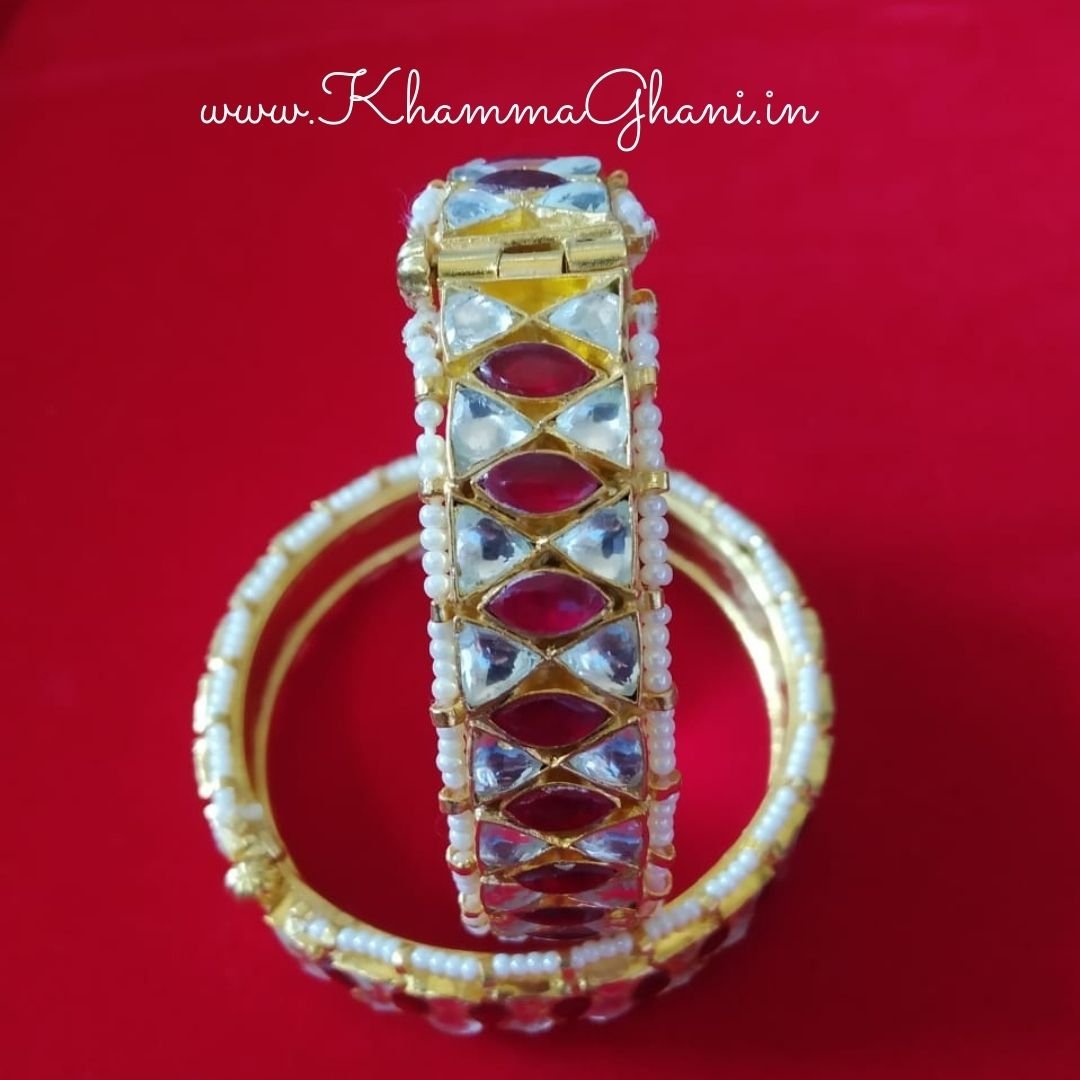 Of course, bangles are the most common hand jewellery in India among women. Traditional Bangles of India are a perfect sign of art, culture and skills together. There are different names and types of bangles like Churi, Chura, Kada, and many other regional names in local languages like Bangdi, Khanch in Rajasthani.
Bangles hold a prerequisite position of jewellery in Indian tradition. Women prefer to match it with their ethnic or western wear. Kada or chuda have special dazzle as the look is incomplete without it. The word bangle came from "bangli" which means glass bracelet in Hindi and it has different names in every province and state. They have a circular shape and are made of materials of plastic, gold, silver, glass, platinum, etc.
Bangles are staple jewellery to enhance the beauty of hands and give a stylish look.
The relationship between women and jewellery is like a rainy day and hot cup of tea. Bangles are part of Indian heritage and varieties of patterns, colours and styles are available in the market that increases the grace of an outfit. Modern women flaunt gold plated kada, multicolour stretching chura or diamond plated bracelet.
"Trending fashion in the jewellery industry , Chura and Kada have classic designs and fine textures of metal to update your wardrobe."
To explore more about bangles for jewellery lovers, we have discussed in this blog about different bangles as per Indian tradition:
All about Rajasthani Kada:  The Marwadi style bangles are in the form of "kada" that reflects culture having vibrant colours usually red,off white or golden. Rajputi women wear plenty of kada that cover half of arm's length.
An art of expertise – Kundan Bangles : They are examples of skilled artisans to make unique jewellery pieces.It comes in various ranges from gold bands with diamonds to thick gold kadas with precious stones from red to green colour. They are famous in Rajasthan and gradually it is becoming a trend across the world.
Grand & Royal – Rajputi chura : The word "Rajputi" itself reflects 'royalty' and it gives a rich traditional look with detailed designs. Rajputi brides wear a bangle bracelet attached with a chain called "Hathphool" as per culture.The ivory chooda is wearable after wedding for a few days. They even look gorgeous with modern outfits.
A glance of mirror – Jaipuri Kada : After depiction of Rajputi chura, Jaipuri bangles come in floral designs or geometric patterns. They are available in bulk in the local market of Jaipur , the pink city of Rajasthan. They are paired with long dresses or cultural events to bring the best outfit.
Versatile and popular – Lac Bangles :  Lac Bangles are popular in Rajasthan made from lac. They have intricate designs and mirror work on it. It is an antique piece of jewellery worn on ethnic wear.
 Punjabi Chura:  For Punjabi brides "chura"has its own significance. They are a set combination of red and white colours. Kalires are tied to punjabi chura on a wedding day. Chura are blessings from maternal uncles. They are worn after completing the puja ceremony with milk and rose petals.
Hyderabad Kada: The colorful eye catchy kada of Hyderabad bling to match every outfit. It has floral patterns , shimmering colours and floral pearls.
Bengali Bangles :  In Bengali culture, two types of kada are important for a married woman – Sankha-Pola and Bauti. Loha Bangle , a mixture of Loha and gold designed as open ends, are wearable for daily routine.
Kada are well known fashionistas jewellery pieces to accessorize your look stylish and  sleek.
South Indian women prefer to wear Kada of temple jewellery having a design of peacock or flower shape. Kada has its own sign of positivity. They have a variety of styles to give an elegant look to pretty hands. Kada were worn by men during the Mohenjo Daro era. Gold or brass Kada with metallic work goes chunky on a casual look. Platinum bangles are a new favourite accessory for the young generation choice. Also, we saw that plastic bangles are now replaced from glass bangles with traditional saree for any festive or celebration times. Every Indian woman wears a pair of Kada on both hands in a daily routine. It is the most essential jewellery for sixteen adornments as tradition. Wearing a Kada or Chura enhances the beauty to the next level. One can just click on our Chura, Bangles & Kada categories to get a collection of bangles exclusively. One can look for imitation jewellery as well that are ruling the fashion world. Ample choices are available for imitation bangles and the best part is you can match it with your dress code.
Our Instagrm id: Instagram