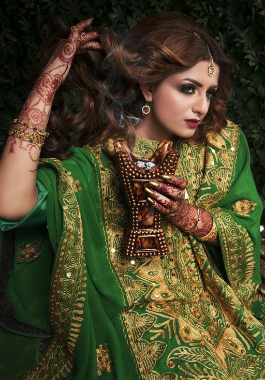 Fashion Jewellery, Wedding Dresses Designs & Home Decor
Occasion: Garba / Dandiya Dance, Durga Puja, Festive/ Ethnic.

Colour: Golden Color

Ideal for: Women

Shipping: Free shipping across India.

Beautiful artificial Kundan set for girls upto 10 years. The jewellery set can be worn in wedding and festive events over traditional dresses to give an attractive and beautiful look. A piece of must-have jewellery set for every growing girl to give her a feel of traditional, cultural and Indian beauty.
Indian Fashion Jewellery & Designs
Indian fashion jewellery is the life line of Indian women. Girls and women are always fantasized by the fashion that is in trend around the jewellery. They are incomplete without jewellery, dresses and accessories like purse, hair bands, clips, bangles & others. Need not to say that these fashion and the jewellery control mood swings in Indian women. The fashion trends and  the jewellery dominate the life of Indian girls & women. Be it college parties, festivals, weddings or even kitty parties these fashion jewellery lead the jealous graph among the ladies.
While talking about the bridal fashion if we miss to discuss bridal jewellery then it's certainly a sin. Now a days special bridal fashion experts are hired during weddings. These experts take care of everything that revolve around bride's fashion. These experts take care of everything right from the latest mehndi designs, to bridal make up, dresses, colours, bridal's entry during the special evening and many other important aspects to make the wedding memorable and lovable.
Handbags, Clutches, Potli and Bags
KhammaGhani offers traditional Indian items like Indian Fashion Jewellery, Rajasthani Rajputi Artificial Jewellery, Pachi Kundan Jadtar Jewellery, Clutches, Purses, Potlis, Jutti, and other sorts of Handicraft home-office decor items for all types of weddings and festive events.
Be it a college girl or a woman, Potli purses and Clutches are one of the most famous fashion accessories for weddings and festivals. Potli purse gives a unique fashionable look to traditional wear like sarees, poshak and salwar kurta. Are you missing the trend? Don't worry, check out our collection.
Home Office Decoratives
We do keep a small assorted collection of home office decoratives like puppets, bandanwar, wall hanging decor, and other home office decor items. These items give your home and office a traditional, authentic, and unique look. Your taste of decoratives items defines your thoughts and fashion statement. So next time when you decorate your home and office, be choosy.