Rajasthani Bridal Jewellery Sets 10 Famous Designs
Rajasthani Bridal Jewellery Sets 10 Famous Designs
"Rajasthani bridal jewellery sets have an amazing collection with modern touch and a traditional look to make a bride style more gorgeous and stunning."
Everyone loves a traditional Rajasthani bridal jewellery set as it is simple but has a unique beauty and holds a special position in the fashion world. Royal Rajasthani jewellery sets possess different positions all over the globe during festive and wedding occasions. Rajasthani jewelry has always been lavish in look and its combo set includes earrings (also known as Jhumkas), nose rings, rings, necklaces, Maangtikka, and many other accessories.  
Rajasthani bridal jewellery sets make women look graceful through vibrant colors, intricate designs, and matching outfits on her big day of a wedding. This jewellery set is most admirable as it has features of beautiful designs and it flourishes as an antique piece made up of handcrafted beads. It is a piece of reputed and glamorous jewelry designed in India and has an exclusive collection of its best quality.
 "Rajasthani bridal jewellery set is also famous as an ethnic jewellery having elegant look and handcrafted with a designer touch."
Any bridal jewellery set symbolizes bloom and charm in Indian culture. To get a perfect matching Rajasthani bridal jewellery set with the outfit and having latest trends.
The 10 best jewellery combo sets for traditional Rajasthani looks are:
Kundan jewellery set:  In Rajasthani Jewellery, Kundan work is highly popular as it is made up of stones. These stone jewelry sets give the bride a stylish modern look and classy evergreen with every outfit maybe a lehenga or a Rajputi Poshak. A girl will have a feeling of princess for sure as it has been designed over pure gold and some precious stones. It is one of the most expensive jewellery since the Mughal era having attained perfection and a fabulous jewellery set for a bride.  It is specialized work carried by craftsmen to have unique designs encrusted stones with different colors and the best jewellery set for a Rajasthan destination wedding.
Jadau Hathphool Jewellery set: This bridal jewellery set includes Kada studded with ruby, pearl, and emerald that is also called a Jadau Hathphool. It is one of the favorite Rajasthani jewellery sets among women that are worn with Rajputi Poshak. This jewellery combo has a necklace, a pair of dangling earrings, toe rings, and matching bangles to look pretty impressive on a big day. In Rajasthan, Jadau work was initiated by highly skilled artisans. They work on a surface object with embedding stones, inspired by the Mughal era, as per the royal ancient stories. Uncut diamonds are used to be called Polki for creating fantastic designs for this particular form of jewellery set.
Baisa combo set with Hathphool:  This ravishing jewellery set of a bride comprehends of a bracelet with coin-shaped hanging Hathphool made up of Kundan and pearl work, choker, Nath, earrings, and Kada to have a stunning perfect look at any of event or cultural get together with traditional outfit. It is a yellow bridal set and Hathphool has a flower design to have a vintage look.
Combo Rajasthani jewellery set:  A Combo jewellery set contains earrings, one necklace having Kundan work of pearls, matched bracelet, and a ring to make a bridal look more classic. Majorly these combo bridal jewellery sets have charm with a pink or red color outfit. Rajasthani artisans have made up exquisite accessories with a combination of brass work.
Elegant & New look jewellery set: This Rajasthani new look jewellery set is a companion of necklace, ear studs, and waist belt to admire a bride having a great charm and stand apart from a crowd. One can dress up in a stylish way to proudly flaunt these Rajasthani jewellery sets with lehengas especially. It is designed keeping in mind new trends and depicts a tradition of Rajasthan.
Rajputi combo jewellery set: This versatile bridal Rajasthani jewellery set includes a long adorned necklace commonly called Rani Haar with a matching pair of earrings, Maangtikka, and bangles attached with loops to a beautiful piece of jewellery. Rajputi bridal accessories symbolize status, royal look, and tradition of Rajasthan. Rajputi Bride with these combo jewellery sets looks stylish because of the fusion of modern and cultural design.
Lac jewellery set: This jewellery set is an outstanding example of Rajasthan artwork. It is made up of dried lac and jewellery design is converted into flowers, leaves, and beads. The Lac jewellery is inspired by traditional unique accessories, has chokers and bangles in yellow or red color and supplemented with glass or brass. It is a traditional lovely bridal jewellery set having varieties of designs, especially in bangles or Chura. Nowadays these jewellery are commonly used in weddings, parties and other get together events. 
Meenakari jewellery set:  Meenakari jewellery set is one of the recognized in Rajasthan as it is precise and skilled artisans design it. The necklace and earrings are embellished with precious stones and the art pattern is shaped in the form of flowers, peacocks, and many others on metal fusing with vibrant colors.
Thewa Jewellery set: This jewellery set comes from renowned place Pratapgraph of Rajasthan. It is known for work done on gold or silver accessories with coloured glass of base. It has a necklace paired up with earrings in a Rajasthani style. The skilled craftsmen take around a month to design that have a flashy rich look. These Thewa handcrafted jewellery fashion is in boom among Rajasthani brides to match up with outfit.
Rakhdi Jewellery set:  Rakhdi is a form of Maangtikka in a Rajasthani culture. Modern brides prefer to have Rakhdi or borla to showcase a fashion statement. A Rakhdi or borla is paired up according to choker and Nath either in a round or spherical shape to come with gorgeous looks of a bride. It is popular in both Rajasthani and Rajputi jewellery essentials for a bride to complete a look. They are made up of kundan or meenakari work to intricate designs.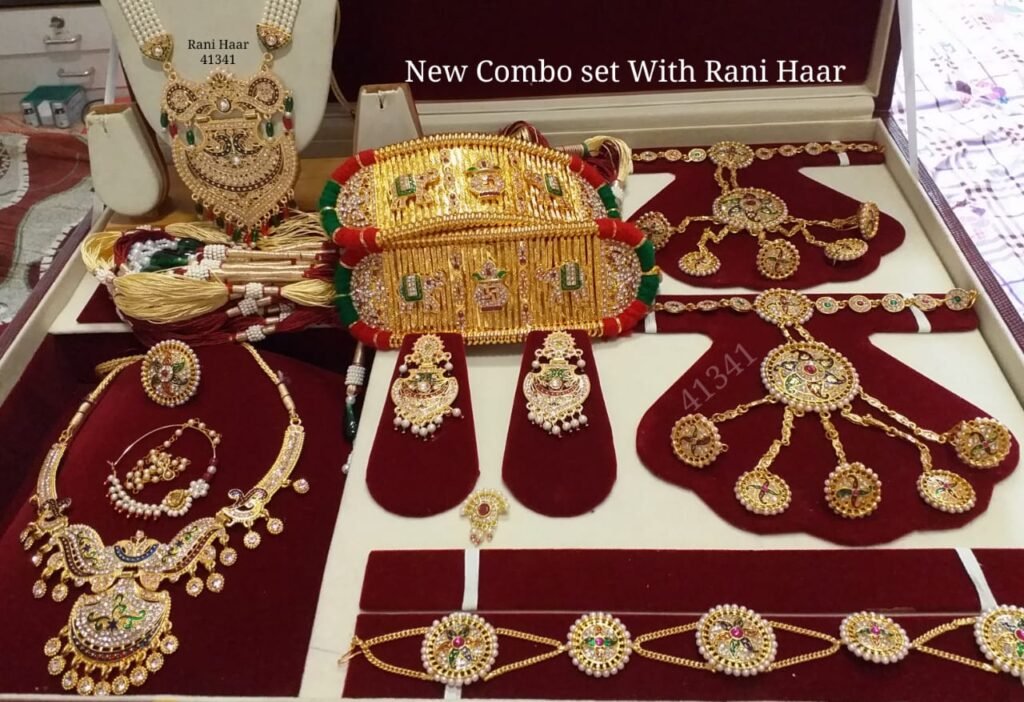 "These combo jewellery sets give a royal and rich appeal that you won't be able to take your eyes off. "
A very famous ornament of Rajputi culture is Rajasthani Aad jewellery set for a bride to have a heavier look of choker that is secondly known to be Timaniya in a local language. They are smaller in size and have been very old fashioned traditional accessories that have a huge demand in the 21st century and they are exported worldwide.
"A Rajasthani bridal jewellery set completely gives a royal queen look with majestic jewel accessories on her wedding day."
In order to summarize bridal jewellery of Rajasthan one should have a tick on checklist of Maangtikka, Nath, long necklace or chokers , earrings or ear studs, toe rings, rings ,  bangles and Hathphool to complete a bridal look with Rajasthani Poshak and reflects the culture prominently.
One can easily grab an opportunity to get Rajasthani jewellery set for bridal online through just one click. Many websites are available for Rajputi jewellery set shopping online and one of reputed websites is khammagani.in having huge varieties of Rajasthani artificial jewellery set and combo of other accessories at a reasonable cost.  The structure of these jewellery sets is influenced by tribal people. They are gaining more fame nowadays as it has purity and uniqueness in it. Traditional Rajasthani jewellery has different accessories to flaunt in style.
Rajasthan is known for its jewellery market and mainly it is manufactured at pink city Jaipur with exclusively huge collections of different size and pattern of meenakari and kundan sets. They are famous in India and carry comfortably and with ease may it be wedding lehenga, exotic saree or a Punjabi suit to enhance the beauty and make a fashion icon. The best theme of these Rajasthani is affection by nature and truly represents its ancient heritage. Rajasthan is to be considered as the best gem craftsmen in our nation to design unique and perfect polishing of it. These jewellery sets have more cherished and mermizing designs to give a regal feel to a bride. It is like a mirror that reflects the grooming of a bride and her hairstyle is stylish with Borla worn over it and every bride get a special touch by it.
Lastly, Rajasthan been land of heritage and royalty, it is one of the main exporters of the jewellery market due combination of skilled craftsmen and innovative technology to design unique jewel accessories. It has been successful globally due to its contemporary style and vibrant colours. They are well-known at international level and trendy due to the high quality of metal and design work. These jewellery set completes a bridal look with handmade jewellery with blend of tradition motive and modern artwork.
Reach out to our Facebook page – https://www.facebook.com/khammaghani.net