South Indian Bride and Latest Wedding Fashion 2023
South Indian Bride and Latest Wedding Fashion 2023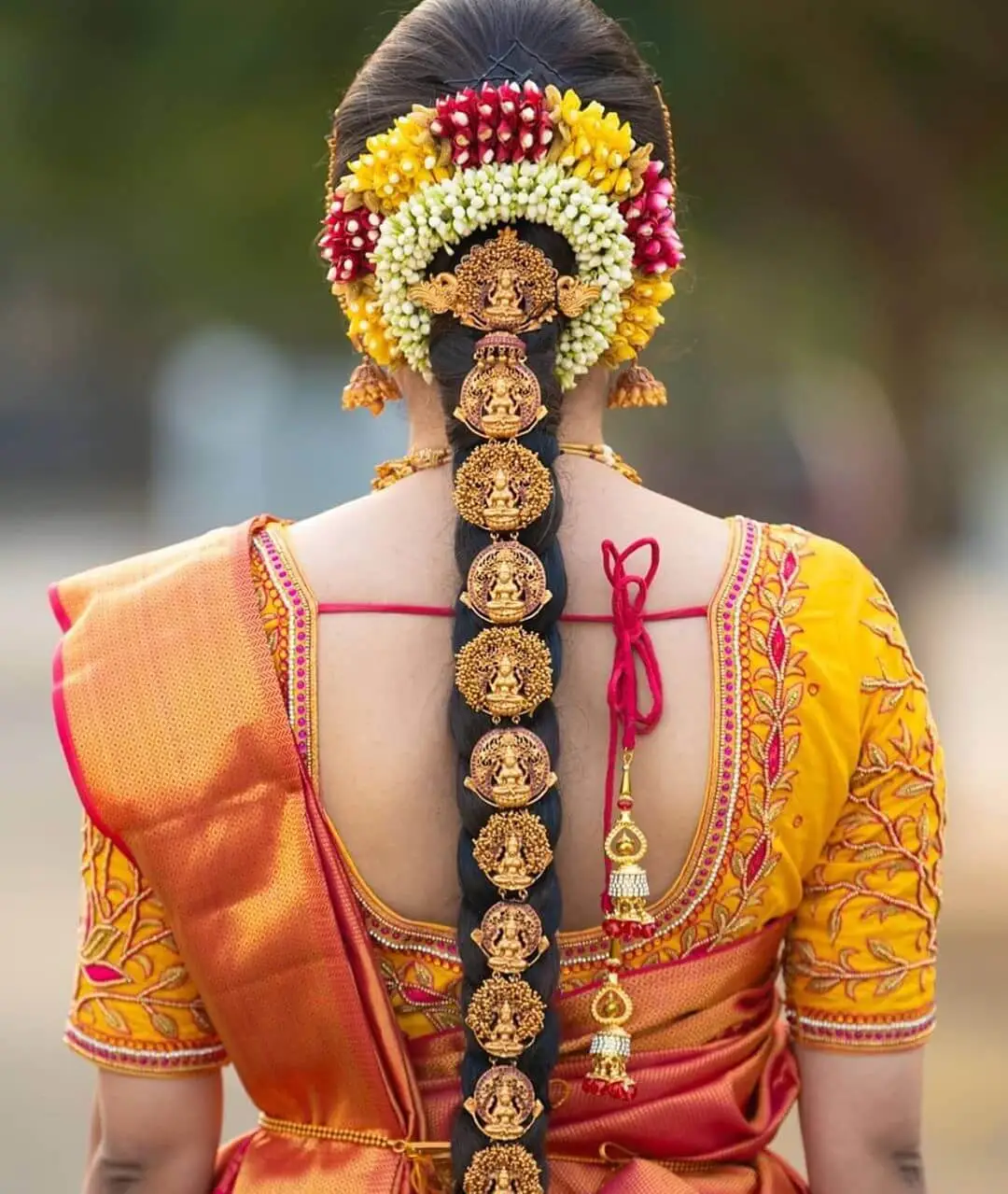 Are you a south Indian bride expecting wedding bells at your home soon? Then you should read this article to know the latest bridal fashion look for your wedding.
Weddings are always special to create unforgettable memories. To make your wedding extra special, you need to get ready as a perfect bride with the latest trends.
In this article, You will get to know the latest fashion tips to look ravishing in your special wedding moments.
Are you excited to pose in your wedding pictures as an ideal couple? Read on to know more.
How do south Indian brides get ready for their wedding?
South Indian weddings are comprised of various cultures depending on the regions they live. Whatever the culture, all south Indian brides have a few things in common.
Let's get to know that below.
Elegant silk sarees for brides
Trending bridal accessories
Bold and classy bridal make-up
Sequenced elegant bridal blouse
Elegant Silk Sarees For Brides
Brides are always the epitome of grace and elegance. To add extra elegance to their look, silk sarees are the best ones to go with any south Indian bridal look.
Especially the timeless Kancheepuram sarees are passed down through the generations as a wedding gift. By wearing the vibrant silk saree, you can steal the show of your wedding.
By wearing a perfectly draped silk saree, you will appear sleek, and glorious and it can even make you appear taller. To enjoy all the fun at your wedding, choose the ideal color saree that brings out the best in you.
Trending Bridal Accessories
Now, you are all set with the perfect wedding saree, and it is time to suit you up with bridal accessories. You can either opt for a traditional wedding accessory or the fashion accessory according to your desire.
Also, the latest bridal accessories such as temple jewelry, Maang tikka, and big Jhumkas can be an ideal match for any south Indian bridal saree.
You can match the accessories with your wedding saree and reception lehenga to look extraordinary.
Bold and Classy Bridal Make-up
South Indian bridal make-up is a must for every south Indian wedding. Bridal make-up can make you stand out from the crowd and look elegant at the same time.
You can prefer several south Indian bridal make-up looks to create variations for every single wedding occasion.
Go for simple, light makeup during your engagement events and bright-looking makeup for your wedding and reception occasions. And match your wedding dress with bridal makeup, and this helps you to achieve a magnificent look.
Sequenced Elegant Bridal Blouse
You cannot spot a single bride without a heavily worked designer blouse at their wedding. The bridal blouse can uplift the wedding saree and make the south Indian bridal look classy.
Spending some bucks on the royal-looking bridal blouse is worth the price for your special occasion. If you choose a plain single-colored wedding saree, a heavily designed blouse can be a great match.
For a rich-looking south Indian bride saree, you can prefer some elegant-looking aari-work blouse as the ideal match. Even contrast-colored blouses for plain saree are trending designs among brides.
South Indian Bride and Groom Dress Combination
Let's not forget to match the bride and groom's dress for an exceptional wedding. After all, it is essential to match your wedding attire with the groom to appear as a royal-dressed couple.
If your wedding saree or lehenga is in bold colors, then try to select some light shades of the same color for your groom.
You can also go for some contrasting colors, designs, and patterns. However, make sure the color combo suits well without exposing the odd color out.
Southern Indian Brides in Lehenga
Brides in south India always prefer to wear a lehenga for their reception occasions. You can choose a beautifully designed lehenga with intricate designs.
You can also handpick a sequenced lehenga to make your look exceptional. The bridal lehenga in bold colors can brighten up your wedding evenings.
If you are interested in dressing up with the latest fashion lehenga, you can choose pastel colors and match them with fashion diamond accessories.
How to get the perfect South Indian bride look?
By choosing the right saree for the right occasion and suiting it up with impeccable accessories, you can achieve the perfect south Indian bridal look.
Also, do not forget to go for trial make-up before your wedding to get flawless south Indian bridal make-up. You can check out the latest bridal blouse designs in several web sources to customize your favorite design.
Conclusion
Every bride wants to have a memorable wedding, by adding extra elegance to your look, you can be more joyous at your wedding.
Planning your wedding attire way before your wedding event can make your work hassle-free. Also, choosing the matching dress for the bride and groom will make your wedding attire ideal.
Always choose a bold color wedding dress and remarkable bridal make-up for a great-looking appearance. You can easily get a collection on Pinterest.